About the Division of Nephrology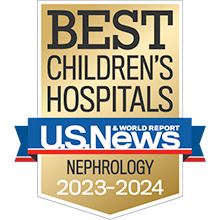 The Division of Nephrology at Children's Hospital of Philadelphia (CHOP) provides your child with world-class care for and treatment of kidney diseases. We act in partnership with your family to help your child reach the best level of physical, social and emotional health possible.
Our division is consistently ranked as one of the top 5 programs in the nation by U.S. News & World Report. Our physicians and staff are known for their ability to diagnose, treat and care for children with all forms of kidney disease. Here, you'll find superb clinical care and an equal measure of understanding and compassion.
If your child has kidney disease — which can be a chronic, life-changing diagnosis — our team can provide all of the necessary related support services, including:
Continuous hemofiltration, hemodialysis and peritoneal dialysis for acute renal failure
A comprehensive program for children with chronic and end-stage renal failure
All forms of renal replacement therapy, including home peritoneal dialysis, in-center hemodialysis and renal transplantation
Our multidisciplinary team — including nephrologists, clinical nurse specialists, social workers, a pharmacist, psychologist, and nutritionist — provides comprehensive medical consultations and evaluations for children with renal diseases, electrolyte disorders and hypertension.
Hematuria/glomerulonephritis
Proteinuria
Nephrotic Syndrome
Hypertension
Kidney Stones
Acute Kidney Injury

Hemolytic Uremic Syndrome

Chronic Kidney Disease

Congenital anomalies of the kidney and urinary tract
Polycystic Kidney Disease

Urinary tract infection
---
Next Steps
Contact Us
Dialysis Unit (Main Campus)