CHOP IT UP! Nephrology Cooking Events
Published on
This year, we were excited to bring back our annual CHOP IT UP Program where patients and families learn how to cook renal-friendly meals in fun and interactive classes. Our new partner this year was the Culinary Literacy Center at the Free Library of Philadelphia and Chef Tonii Hicks.
CHOP IT Up Summer Camp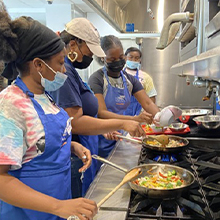 Nephrology patients ages 11 to 18 participated in a weeklong camp, cooking delicious dishes like chicken stir-fry, pizza, and cupcakes and muffins. In the afternoon, campers got to explore the many departments in the historic library. They signed up for the reading challenge at the brand-new Teen Center, took a tour where they saw a 4,000-year-old book in the rare books department, and got a music lesson from our very own Jon Savant, PA. The week ended with a CHOPPED Challenge where campers used their new skills to prepare a meal with secret ingredients. The judges had a tough time deciding on a winner!
CHOP IT Up Fall Workshop
On a beautiful fall day in November, patients and caregivers gathered to prepare a mouth-watering meal of Herby Garlic Chicken, Whipped Cauliflower and Potatoes, Stewed Mixed Greens, and Carrot Cake Cookies with Cream Cheese Frosting. Joined by Attending Physician Sandra Amaral, MD, MHS, Medical Director of CHOP's Kidney Transplant and Dialysis Program, and Clinical Dietitian Elisha Pavlick, RD, CSP, LDN, attendees learned tips like double boiling potatoes to decrease the potassium and using fresh herbs and spices instead of salt to flavor your dishes and reduce sodium. Everyone then got to enjoy the meal on the outside terrace with a beautiful view of the Philadelphia skyline.
If you are interested in participating in summer camp, or future workshops, please reach out to Annie Chung at chunga@chop.edu to be put on a distribution list. She will share event info when available. These events are free and made possible by Dr. Amaral's Endowed Chair Fund and CHOP's Pediatric Center of Excellence in Nephrology.
---
Next Steps
Contact Us
Dialysis Unit (Main Campus)