Cellular Therapy and Transplant Section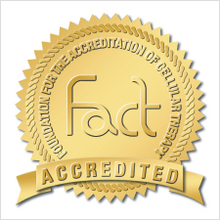 The Cellular Therapy and Transplant Section (CTTS) at Children's Hospital of Philadelphia (CHOP) consists of a preeminent team of specialists in immunotherapy (IP) and blood and marrow transplant (BMT). The CTTS is part of the Division of Oncology in the Department of Pediatrics at CHOP. Our patients receive the most cutting-edge treatment options for a variety of severe illnesses, various cancers, and disorders of the blood and immune system. All services are available at our state-of-the-art facility where we prioritize patient comfort and safety. Led by Stephan A. Grupp, MD; our team of multi-disciplinary clinicians and researchers works together to advance and revolutionize this field of therapy. With expertise in the complex care of children with these diseases we have been continuously accredited by the Foundation for the Accreditation of Cellular Therapy (FACT). This is the global standard for top quality patient care in cellular therapy which requires centers to demonstrate that patient needs are paramount.
Emily Whitehead, First Pediatric Patient to Receive CAR T-Cell Therapy, Celebrates Cure 10 Years Later
Whitehead received life-saving treatment at CHOP, under the care of Dr. Stephan Grupp, transforming the field of cancer immunotherapy.
View more
Our Programs and Services
We partner with programs throughout the hospital to facilitate the best possible treatment options for patients in our care.
The Cellular Therapy and Transplant Section is staffed by a multidisciplinary team of physicians, advanced practice nurses, nurse and non-nurse clinical/research coordinators, social workers, inpatient and outpatient registered nurses, nutritionists, psychologists, child life specialists and translators.
---
Next Steps
Existing Patients or Family Members
New Patients, Referrals and 2nd Opinions