Prepare for ICD-10 Updates With Free Webinars
CHOP's ICD-10 Transition Team is offering several free webinars to help our providers and partners prepare for this important transition. As you know, the Centers for Medicare & Medicaid Services, health insurers, providers and all HIPAA-covered entities will be making the transition from the ICD-9 diagnosis code set to ICD-10 on Oct. 1, 2015. Sign up today »
Now Open: King of Prussia Specialty Care and Ambulatory Surgery Center
On May 18, CHOP opened a new Specialty Care and Ambulatory Surgery Center at 550 S. Goodard Blvd. in King of Prussia, PA. Replacing the existing specialty care facility located on Mall Boulevard, the new Center will support more than 30 medical and surgical subspecialties and offer same-day surgery. Services began moving from the existing site this month, with all expected to be operating by July.
Coming Soon: Brandywine Valley Specialty Care Location
This summer, CHOP Care Network's Chadds Ford and Springfield Specialty Care Centers will be moving to a new location at 819 Baltimore Pike, Glen Mills, PA. The new Brandywine Valley Specialty Care and Ambulatory Surgery Center will house all of the specialties currently offered at the Chadds Ford and Springfield locations, as well as the Ambulatory Surgery Center currently located in Exton.
Making Referrals in Link2CHOP
Link2CHOP makes the referral process smooth and streamlined. If you're not already using the system, make sure you sign up and get started! Access Link2CHOP »
Clinical Guidelines
Stress Steroid Dosing and Weaning
Children may require chronic glucocorticoid therapy to treat a variety of conditions. Learn more about CHOP's recommendations for stress dosing and weaning children who are on steroid therapy for more than two weeks.
Rapid Recovery Pathway for Idiopathic Scoliosis
Can children head home just a few days after major spine surgery, with their pain under control? Changing methods of care for adolescent patients have made it possible. Read more about CHOP's updated approach to pain management and functional recovery.
Specialty Clinic Focuses on Treatment of Breast and Chest Wall Disorders
CHOP's Pediatric and Adolescent Breast Program cares for boys and girls with a variety of issues associated with breast and chest wall disorders, including pain or discomfort, functional problems that limit activity, and appearance concerns. The program includes specialists from plastic and reconstructive surgery, pediatric general surgery, endocrinology, adolescent medicine, and psychology.
New Pulmonary Function Testing Lab
Patients with respiratory issues will soon have access to comprehensive testing in the pulmonary function testing (PFT) lab at the new Specialty Care and Ambulatory Surgery Center in King of Prussia. The new lab joins CHOP's other PFT labs at Main Campus and the CHOP Specialty Care Center at Virtua. If you have questions about pulmonary function testing at CHOP locations, please contact Oscar Mayer, MD, medical director of the PFT laboratory, at 215-590-3749 or mayero@email.chop.edu.
For Your Patients: New ADHD Videos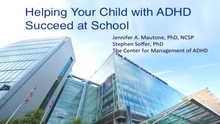 The Center for Management of ADHD created four new videos covering topics ranging from helping children with ADHD succeed at school and socially, to executive functioning in children with ADHD. We hope you'll share the videos, which offer practical tips and strategies, with your patient families.
Updates From the Division of Pulmonary Medicine
Melissa Pangan, MD, a former CHOP resident, is now an attending physician serving pulmonary patients at CHOP's Main Campus and in the Care Network locations in Bucks County and King of Prussia in Pennsylvania. She is also available to see patients in the Ventilator Dependent Program.
---
Contact Us
We want to hear from you! We encourage feedback from our partners. Please contact us at PhysicianReferralSer@email.chop.edu with questions, suggestions or concerns. If you change your address, add new physicians or have any new information you want to share with us, be sure to update your information.
Don't Forget to TRY-CHOP: Line Open for Both Physicians and Families
Have you tried our new Clinician Priority Phone Line yet? Call 1-800-TRY-CHOP (1-800-879-2467) and press 2 to be connected to the on-call physician or nurse practitioner in the CHOP program you specify. Patient families can also use this line and press 1 for assistance.