Why Choose CHOP for Orthopaedics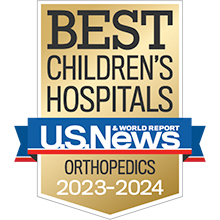 CHOP's Division of Orthopaedics is one of the largest and most active pediatric orthopaedic centers in the world, consistently ranked among the best in the nation by U.S. News & World Report, earning the No. 1 spot in 2023-2024. Our pioneering surgeons and multidisciplinary team are ready to treat any orthopaedic condition your child may face.
We have provided high-quality, safe and effective orthopaedic care for more than 120 years.
Our orthopaedic surgeons offer procedures for some conditions that are not performed anywhere else in the region.
Our team of world-renowned orthopaedic surgeons, sports medicine physicians, nurse practitioners and physician assistants provide complete and individualized care for your child.
We work with many other specialists at CHOP to coordinate your child's care.
You can access our services at several convenient locations (including two ambulatory surgery centers) in Pennsylvania and New Jersey.
---
Next Steps
Appointments, Referrals and Video Visits