Why Choose CHOP for Sports Medicine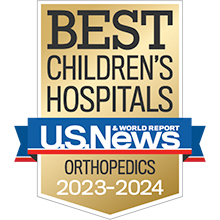 The pediatric Sports Medicine and Performance Center at Children's Hospital of Philadelphia (CHOP) is the region's premier healthcare resource for young athletes. We have more specially-trained sports medicine physicians, physical therapists and athletic trainers than any other pediatric orthopaedic facility in the region and are nationally recognized for our innovative treatments for young performance athletes.
The Sports Medicine and Performance Center is part of CHOP's Division of Orthopaedics, which is consistently among the top ranked programs in the nation according to U.S. News & World Report's Honor Roll of Best Children's Hospitals, earning the No. 1 spot in 2023-24.
Led by world-class orthopaedic surgeons Theodore J. Ganley, MD, Lawrence Wells, MD, and John T. Lawrence, MD, PhD, the Sports Medicine and Performance Center offers cutting-edge treatment to children, teens and young adults with sports injuries.
Our large team of pediatric sports medicine specialists is made up of board-certified orthopaedic surgeons and sports medicine physicians, specially-trained physical therapists, athletic trainers and nutritionists, as well as advanced practice nurses and physician assistants. The Center is nationally recognized for excellence.
Our surgeons have developed innovative surgical techniques — most notably, pediatric ACL reconstruction — that are now being used as the gold standard across the nation.
---
Next Steps
Appointments, Referrals and Video Visits
---
You Might Also Like