Kidney-healthy Meatball & Veggie Soup Recipe
Before using, please refer to our Recipes Disclaimer.
Eating the right foods can support kidney health. Paige Vondran, the medical chef educator for the Dietary Treatment Program, offers a kidney-healthy delicious soup recipe.
Meatball & Veggie Soup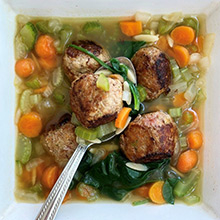 Yields: 7 servings
Each serving is approximately 1 ½ cup broth & vegetables with 5 miniature meatballs
Calories: 132 kcal
Phosphorous: 99 mg;
Potassium: 377 mg
Sodium: 105 mg
Meatball Ingredients (~25 each)
1 egg
8 oz. ground beef
½ medium/large carrot
½ medium/large celery stalk
½ medium onion
2 Tbsp. breadcrumbs
Dry seasonings: onion powder, garlic powder and black pepper
Soup Ingredients
7 cups water
4 celery stalks
1 medium onion
medium/large carrots
2 cups raw spinach
Let's cook!
Rinse and slice the carrots, celery, and onion into small pieces.
In a large stock pot, combine the water and sliced vegetables to the pot.
Bring the liquid to a rapid boil, then lower to a simmer and cover with a lid.
While the soup broth is simmering, start assembling the meatballs.
Slice the carrot, celery, and onion in to medium sized chunks, then add to a food processor or blender.
Thoroughly chop the vegetables until minced.
In a large mixing bowl, combine all meatball ingredients together.
Add dry seasonings to taste; stir until thoroughly mixed.
Grease a large pan with nonstick cooking spray then heat until hot.
Scoop meatball mixture using a spoon, forming bite sized rounds (about Tablespoon sized).
Brown the meatballs in the hot pan, rotating on all sides, until fully cooked through out.
Set meatballs aside.
Scoop about 2-3 cups of the vegetable soup and transfer to the food processor or blender.
Blend the mixture into a puree consistency, then add the puree back to the large pot.
Add the fresh spinach and meatballs, then serve hot.
Chef's Tips
For additional flavor, low sodium vegetable broth can be substituted as needed for the water (but may add additional sodium).
Other vegetables that are compliant with the renal diet can be added to this recipe as desired.
For extra lean meatballs, a combination ground meat can be used (such as veal, pork, and beef).
---
Next Steps
Contact Us
Dialysis Unit (Main Campus)