About the Division of Orthopaedics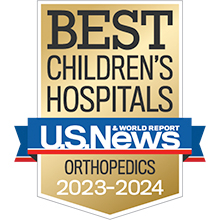 From broken arms and sports injuries to complex spine conditions, your child will receive world-class, family-centered care at CHOP's Division of Orthopaedics. Our program is one of the largest and most active pediatric orthopaedic centers in the world, and has provided safe and effective care to children and young adults for over 120 years. The Division of Orthopaedics is ranked among the best in the nation on U.S. News & World Report's prestigious 2022-23 Honor Roll of Best Children's Hospitals.
Best in class orthopaedic care — close to home
No matter where you are in Eastern Pennsylvania or New Jersey, CHOP Orthopaedics is nearby. Your child can access our world-renowned team of experts at multiple locations throughout Pennsylvania and New Jersey, including two ambulatory surgery centers.
At these convenient locations, our team of orthopaedic surgeons, sports medicine pediatricians, nurse practitioners and physician assistants provide diagnostic testing, treatment and follow-up for orthopaedic patients. They will also coordinate your child's care with other specialists in the CHOP network, offering him complete and individualized treatment.
---
Next Steps
Appointments, Referrals and Video Visits
---
You Might Also Like