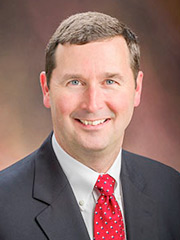 John M. "Jack" Flynn, MD, a nationally prominent specialist in pediatric orthopedic surgery, was recently appointed chief of The Children's Hospital of Philadelphia's Division of Orthopedics. He has served as the associate chief of Orthopedic Surgery at CHOP since 2005.
Flynn succeeds John Dormans, MD, who has led the Division of Orthopedics for the past 18 years. Dormans oversaw spectacular growth in orthopedic surgery faculty and a crucial expansion in the division's fellowship program, enhancements to basic research, and the development of several important multidisciplinary programs.
A graduate of Johns Hopkins University and the University of Pittsburgh School of Medicine, Flynn completed his surgical training in the Harvard Combined Orthopaedic Surgery Program, followed by a pediatric orthopedic fellowship at A.I. duPont Hospital for Children. He has practiced at CHOP since 1996 and is a professor of Orthopedic Surgery in the Perelman School of Medicine at the University of Pennsylvania. In addition to serving as CHOP's associate chief of Orthopedic Surgery since 2005, he also has been the associate Trauma director for Orthopedics since 1996.
Flynn has a particular research interest in scoliosis and has pioneered the use of image-guided navigation for pediatric spinal deformities, an innovation that significantly improves the safety of implant placement. He has collaborated with other pediatric spine leaders across the United States to co-author some of the most important papers and guidelines in spine surgery safety, especially the prevention of neurologic injury and infection. He just completed a term as president of the Pediatric Orthopaedic Society of North America and was recently appointed to a 10-year term as a Director of the American Board of Orthopaedic Surgery. He has published more than 220 peer-reviewed scientific articles, reviews and textbook chapters, and is an editor of the 3 principal texts in pediatric orthopedic surgery.
"We congratulate Dr Flynn on his well-deserved selection as the division's new leader," says N. Scott Adzick, MD, CHOP's Surgeon-in-Chief. "I look forward to his continued contributions in this new role."