Synovial Joint Formation Research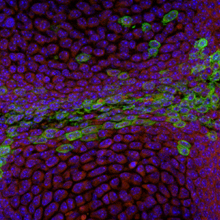 A microscope image of a developing embryonic joint. Cells in the center of the image will later become articular cartilage. Synovial joints — such as the knee, shoulder and hip — have fundamental roles in body function and quality of life.
In studies carried out over the past few years, our researchers have discovered that the joints arise from a specialized cohort of progenitor cells — termed interzone cells — during fetal development.
Our researchers are now working on ways to harness the joint regenerative properties of these cells and create novel joint regenerative therapies. They are also attempting to transfer those properties onto generic stem cells such as those isolated from bone marrow and fat.
This research could have enormous clinical implications and could lead to effective and efficient repair and regeneration therapies for joint disease and congenital malformations.
This research is supported by the National Institutes of Health (NIH) and involves collaborators at the NIH and the University of Michigan.
Primary investigators on this study: Maurizio Pacifici, PhD; Motomi Enomoto-Iwamoto, DDS, PhD; and Eiki Koyama, DDS, PhD
Reviewed by: Maurizio Pacifici, PhD
---
Next Steps
Appointments, Referrals and Video Visits