Heterotopic Ossification Prevention Research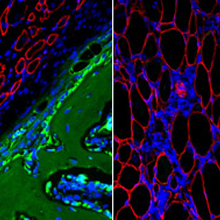 Heterotopic ossification (HO) involves the abnormal formation of excess bone tissue within muscles and other tissues and near blood vessels, nerves and tendons.
The images detail the effect of selective RAR gamma agonist on heterotopic ossification in an FOP-like model. Left is a histology of the heterotopic ossification; right is a histology of the treated model limb, showing no heterotopic ossification.
HO is triggered by trauma, invasive surgeries or extensive burns and can also be hereditary and extremely severe as in the case of the pediatric disorder Fibrodysplasia Ossificans Progressiva (FOP).
Using insights learned from studies on normal embryonic bone development, our researchers have identified a possible drug-based therapy for HO prevention and have tested it in experimental models of the disease.
Basic research is continuing to clarify the mechanisms of therapeutic action, and plans are being made for a clinical trial in the very near future.
This research is supported by grants from the U.S. Department of Defense and the National Institutes of Health and involves collaborators at the University of Pennsylvania and the Naval Medical Research Center in Maryland.
Primary investigator on this study: Maurizio Pacifici, PhD, and Masahiro Iwamoto, DDS, PhD
Reviewed by: Maurizio Pacifici, PhD
---
Next Steps
Appointments, Referrals and Video Visits