About the Division of Neurology
If your child is suffering from a neurologic disorder, the Division of Neurology at Children's Hospital of Philadelphia is here to help.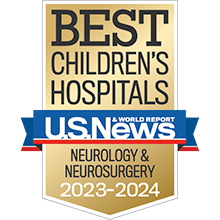 At Children's Hospital, your child will be cared for by one of the largest and most comprehensive pediatric neurology programs in the nation. This means you will have access to a complete range of services designed to provide the best possible experience for your child and family.
As part of our Neuroscience Center, our world-renowned specialists in Neurology collaborate with Neurosurgery specialists to provide a precise diagnosis, individualized clinical care, and cutting-edge treatment, and to achieve groundbreaking discoveries. Our divisions of Neurology and Neurosurgery are consistently ranked among the top 10 pediatric programs in the nation by U.S. News & World Report.
Our neurologists have advanced training and experience in caring for children and adolescents with all types of neurological disorders, including pediatric stroke, epilepsy, neuromuscular disorders, sleep disorders, developmental delay, neurogenetic disorders, multiple sclerosis and neonatal neurology, and much more. Each year we have more than 25,000 outpatient visits in a variety of locations across Philadelphia and the surrounding region through our CHOP Care Network.
Specialized clinical programs
Depending on your child's diagnosis, care may be managed through one of our specialized clinical programs.
Our Pediatric Epilepsy Program provides comprehensive care for children with seizures and epilepsy, including medical management, genetic diagnoses, dietary therapies (e.g., the ketogenic diet), genetically defined and targeted treatments, and surgical options. Our Neurogenetics Program — one of the leading programs of its kind in the country — specializes in the evaluation and treatment of epilepsies and movement disorders due to genetic changes. Through our new Epilepsy Neurogenetics Initiative, we integrate genetic testing into the diagnosis and treatment of children with difficult-to-treat or unexplained epilepsies in order to develop an individualized approach to treatment and management.
In our Neuromuscular Program, a team of physicians, nurses, a dietitian, social workers and therapists provides comprehensive care for children living with muscular dystrophy, spinal muscular atrophy, myasthenia gravis and diseases and injuries of the peripheral nerves. Our program is part of numerous clinical trials, offering new hope for children living with these conditions.
Our world-class Pediatric Multiple Sclerosis (MS) and Neuroinflammatory Disorders Clinic offers cutting-edge, multidisciplinary diagnosis and clinical care for children with MS and other neuroinflammatory disorders. In partnership with the adult MS program at the Hospital of the University of Pennsylvania, our program is designed to offer MS care across all ages, supporting your child's needs from the time of diagnosis until the time they transition to adult care. Our team is internationally known for research discoveries surrounding these disorders.
Through our Pediatric Headache Program, children with migraine and other types of headache can find relief with a comprehensive care strategy involving lifestyle modifications, counseling, medication and other therapies as needed. We also offer input on the management of headaches following traumatic brain injuries.
Our Pediatric Stroke Program offers immediate and long-term care, enhanced by our highly effective partnership with CHOP's rehabilitation team and neurosurgeons.
Infants and children with critical illness, including those who are born with congenital neurological malformations and congenital heart disease, are all too often afflicted with life-threatening and life-altering neurologic complications. Our Brain Protection Program partners with other front-line clinicians in the care of critically ill infants and children, integrating advanced engineering and monitoring to optimize the outcome of children with acute brain injuries and protect the developing brain.
Our Leukodystrophy Center provides multidisciplinary clinical care, diagnostic testing (including genetic testing) and state-of-the-art research for children living with these rare degenerative disorders.
Our Friedreich's Ataxia Program is the largest clinical program of its kind in the world. Our experts provide comprehensive care from initial diagnosis and testing through long-term disease management for this rare, progressive condition.
Comprehensive neurological care
Our pediatric neurologists also provide care and consultation in a variety of other subspecialty clinics, including the Mitochondrial Medicine Program, Sleep Center, Neuro-Oncology Program, and elsewhere across the institution where our skills and experience may help patients.
In addition to our clinical services, team members are actively involved in research that focuses on a wide variety of neurologic injuries and neurodevelopmental problems, with the goal of improving treatment options and outcomes for children affected by neurological disorders.
---
You Might Also Like