About the Division of Urology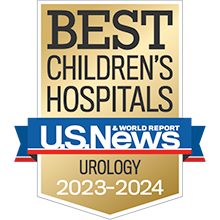 Treating children with urologic issues is our focus at the Division of Urology. Each year we perform more than 2,500 surgeries and treat more than 20,000 children — some of whom travel to Philadelphia from around the world.
Our division is consistently ranked as one of the top programs in the nation by U.S. News & World Report's Best Children's Hospitals survey for treatment of complex pediatric urologic issues. Established in 1970 as the first program dedicated to the urologic needs of children, our Division:
Has a long history of innovation
Is committed to optimal care
Is dedicated to training future generations of pediatric urologists from the United States and abroad
Expertise in pediatric urologic disorders
Our multidisciplinary team of experts specializes in diagnosing and treating a wide range of urologic disorders in children and adolescents.
Our team is comprised of world leaders in pediatric urology, with experts in minimally invasive surgery, genito-urinary reconstruction, comprehensive management of disorders of sex development, management of the neurogenic bladder, and the treatment of dysfunctional voiding. We house one of the few comprehensive pediatric kidney stone programs in the country and are leading research into this painful, often recurring condition.
Every day, our team is finding exciting new answers to the complex problems of urinary and genital conditions in children. For half a century, we have refined treatments in ways that have dramatically improved children's lives.
Members of our team have pioneered many of the reconstructive surgical procedures that are used throughout the world today to treat urologic conditions. These include repairs for:
Our team continues to develop and refine surgical approaches for complex conditions, using minimally invasive, microsurgical and robotic techniques.
---
Next Steps
Appointments, Referrals and Video Visits
Fax
---
You Might Also Like