Celebrating Social Work Month
Published on
What is the primary patient population you serve?
Every child treated at the Cancer Center at Children's Hospital of Philadelphia (CHOP) — whether newly diagnosed, undergoing a bone marrow transplant, or receiving CAR T-cell therapy — is assigned a social worker. We follow our patients and their families throughout the length of their treatment, which can last for months or years. We continue to work with patients into survivorship and beyond. No matter where the patient is located at CHOP — the oncology inpatient unit, outpatient clinic, intensive care unit, or the rehab unit — their social worker continues to be there to support them.
What are some ways you provide support for patients and their families?
We perform psychosocial assessments to understand areas of strengths and areas of need, as well as unique family circumstances, pertinent cultural issues, coping mechanisms and any barriers that may impact care. Social workers help to determine each family's understanding of, and adjustment to, their child's diagnosis and treatment plan. We support families in many ways:
Supportive counseling: Each social work assessment includes anticipatory guidance about the road ahead for patients and families and normalization of initial feelings of shock, sadness and grief. Coping strategies are discussed and tailored to the individual patient and family.
Community resource planning: Oncology social workers link patients and families to services including, but not limited to, state-funded insurance, Supplemental Security Income, financial assistance, wish-granting organizations, various childhood cancer foundations, transportation help, and other hospital and community resources, based on an assessment of needs.
School advocacy: Social work assists with educational coordination in collaboration with our education coordinators, which includes possible homebound tutoring as well as return to school after a cancer diagnosis. The goal is to safeguard patients' legal rights while providing guidance to caregivers and school personnel about the impact of a child's treatment on their educational plan.
Educational resources: The social work team has access to handouts, books and materials that provide reliable information about various types of cancer. In addition, social work refers patients and families to numerous online resources for information.
How do you work with other team members at the Cancer Center?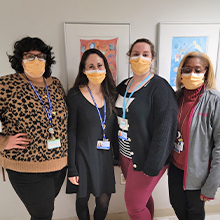 We are vital members of the team. We attend rounds and collaborate with the medical team daily. We make sure the medical team understands the family composition, any stressors and psychosocial issues the family may be experiencing, and what the family understands about treatment. We are included in all new diagnosis family meetings or change in treatment meetings such as at relapse and end of life. We are part of a larger psychosocial team that includes child life specialists, psychologists, neuropsychologists, chaplaincy, an education coordinator, teachers, and creative arts therapists. The entire psychosocial team meets at least once a month to discuss how we can support specific families and develop programs.
What is your favorite part of your job?
The oncology social work team is in the unique position of serving as a consistent team member for patients and families. We advocate for and support our patient families and are a companion to them as they experience challenging health events. We consider it an honor to be supporting families throughout the complexities of diagnosis and treatment, and helping families know they are not alone. Our patients are so resilient and inspirational.
In addition, teamwork! Interprofessional collaboration is critical to providing excellent healthcare. We work with such a skilled team of doctors, nurse practitioners, child life specialists, and psychologists.
What would you want families and patients to know about your job?
We are here to help you! Leaning on us for support can make your experience at CHOP much smoother. Social workers are excellent problem solvers, so do not hesitate to ask us whatever is on your mind. Even though we may not have all the answers, we will be able to point you in the right direction to get that answer.
---
Next Steps
Existing Patients or Family Members
New Patients, Referrals and 2nd Opinions