About the Division of Pulmonary and Sleep Medicine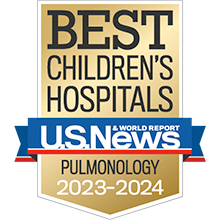 Whatever is causing your child's breathing challenge — from asthma to congenital lung disorders, interstitial lung disease to chronic respiratory insufficiency — the Division of Pulmonary and Sleep Medicine at Children's Hospital of Philadelphia (CHOP) can provide you and your child with information, support and advanced treatment options. Our division is ranked among the top 5 programs in the nation on U.S. News & World Report's prestigious 2023-24 Honor Roll of Best Children's Hospitals.
CHOP has one of the largest Pulmonary and Sleep Medicine practices of any pediatric hospital in the world. Our team includes 30 attendings, 11 nurse practitioners and nine pulmonary fellows who handle 14,000 patient visits a year, seeing children with common, uncommon and extremely rare lung diseases.
We provide multidisciplinary inpatient and outpatient services for infants and children with both short-term and chronic respiratory problems. Our patients receive outstanding, comprehensive care from our physicians, certified nurse practitioners, nutritionists and social workers. And we're committed to researching pulmonary and sleep disorders and finding new and effective treatments.
Our pediatric pulmonary and sleep experts provide the full spectrum of care across many locations, including at our University City Main Hospital and several CHOP Care Network locations throughout the community.