Study Reports on Neurodevelopmental Outcomes of TTTS Patients
Published on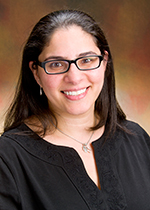 Nahla Khalek, MD February 8, 2014 — Monochorionic twins who underwent in utero laser surgery for a life-threatening diagnosis are likely to show normal neurodevelopmental development at age 2, according to fetal medicine experts.
Maternal-fetal medicine and clinical genetics specialist Nahla Khalek, MD, of the Center for Fetal Diagnosis and Treatment at The Children's Hospital of Philadelphia (CHOP), presented results of a study of 29 pairs of twins at the annual meeting of the Society for Maternal-Fetal Medicine today in New Orleans.
Khalek led the analysis of two-year neurodevelopmental outcomes in twins with twin-twin transfusion syndrome (TTTS) who underwent fetoscopic laser ablation of placental anastomoses in utero. It was the first comprehensive neurodevelopmental and behavioral assessment of two-year outcomes in a cohort of North American children with the diagnosis of TTTS.
TTTS occurs before birth in about 10 to 15 percent of monochorionic twins who share one placenta but each have their own amniotic sac. The shared placenta contains blood vessels connecting both fetuses. TTTS results from an imbalance in net blood flow resulting in a discrepancy in blood volume distribution.
One twin — the donor — becomes hypovolemic and growth restricted, while the other twin — the recipient — becomes hypervolemic and is at risk for heart failure. Fetoscopic laser coagulation of placental anastomoses offers a causal treatment option by interrupting placental anastomoses. Without intervention, TTTS results in the death of one or both fetuses in 80 to 100 percent of cases.

The preferred treatment for TTTS is selective laser photocoagulation of placental anastomoses. This minimally invasive procedure uses a laser fiber inserted through a fetoscope to identify and disconnect all of the identifiable connecting blood vessels, allowing for redistribution and normalization of blood flow to each fetus.
The Center for Fetal Diagnosis and Treatment at CHOP serves more than 150 families with complicated multiples pregnancies each year and performs more than 50 fetoscopic laser surgeries annually, one of the highest volumes of prenatal laser surgeries in the nation, with dual survival rates that rank among the best in the world.
Khalek and colleagues studied 58 2-year-olds (29 pairs of twins) who had undergone the laser procedure at CHOP between 2009 and 2011. They assessed the children's cognitive, language, behavior, and motor skills using three standard neurodevelopmental tests: the BSID III, ITSEA and M-CHAT.

The mean scores of all three tests were within or above average range or raised no concerns.
"Overall, there were high rates of normal neurodevelopmental outcomes in these children at age 2," said Khalek. "We did find differences in some outcomes based on TTTS stage and whether or not a twin was a former donor versus former recipient. The objective of fetal therapy should be to reach a high percentage of intact survival. However, this goal should never be limited to the perinatal period. This data will allow us to further stratify patients and guide us in counseling parents about longer-term neurodevelopmental outcomes for their children."
"Careful neurodevelopmental follow-up of TTTS survivors is of major importance," added Khalek, "and future TTTS research should focus on larger numbers of 2-year-olds, as well as follow neurodevelopmental outcomes as children reach school age — 6 and older."
Research funded by grateful family
Funding for this study came from Laura and Adam Epstein, whose daughters, Rose and Madeline, were treated for TTTS at CHOP, and the Conway Family Foundation, a philanthropic organization run by the grandparents of these young TTTS survivors.

In 2009, during a routine ultrasound, Laura and Adam Epstein learned their pregnancy was complicated by this life-threatening condition. The obstetrician who made the diagnosis recognized that the twins' lives were in danger and referred the Epsteins to CHOP's Center for Fetal Diagnosis and Treatment. Three days after a comprehensive evaluation at the Center, fetal surgeons successfully operated on the twins in utero. The Epsteins returned home, and a few months later, the girls were born healthy and full term. Yet many questions remained about the long-term prognosis of children like Rose and Madeline.

To address that need, the Epsteins and the Conway Family Foundation funded this multiyear study at CHOP to look at the neurocognitive and cardiovascular effects of TTTS in twins through age 2. Their goal is to provide families more accurate information on what to expect both before and after birth and to identify any additional long-term consequences.
"This research is pioneering work that wouldn't have happened without philanthropy," said Khalek.

In addition to Khalek, additional study authors from CHOP include Marsha Gerdes, PhD, Casey Hoffman-Craven, PhD, Anjani Villa BS, CCRC, Okan Elci, PhD, Julie Moldenhauer, MD, Juan Martinez-Poyer, MD, and Mark P. Johnson, MD, as well as former CHOP physician Michael W. Bebbington, MD.
Nahla Khalek et al, "Two year neurodevelopmental outcomes in monochorionic twins after selective laser photocoagulation for twin twin transfusion syndrome," Abstract presented at Society for Maternal-Fetal Medicine 34th Annual Meeting, Feb. 8, 2014.
About the Center for Fetal Diagnosis and Treatment at CHOP
The Center for Fetal Diagnosis and Treatment at The Children's Hospital of Philadelphia is an internationally recognized leader in fetal surgery and fetal care. One of the only programs of its kind in the world, it offers a comprehensive breadth of services, including fetal therapy, to support patients from prenatal evaluation through delivery, postnatal care, and long-term follow-up.
Established in 1995, the Center has welcomed more than 15,000 expectant parents and received referrals from all 50 states and more than 50 countries. Its multidisciplinary team brings decades of experience to the care and treatment of the fetus and the expectant mother. The Center has performed more than 1,000 fetal surgeries, including complex open procedures for birth defects such as spina bifida; less invasive fetoscopic or ultrasound-guided surgeries for conditions such as twin-twin transfusion syndrome; and specialized coordinated delivery approaches for babies that require surgical intervention while still on maternal-placental life support (EXIT delivery).
Contact
Ashley Moore, The Children's Hospital of Philadelphia, 267-426-6071, mooreA1@email.chop.edu