About the Cardiac Center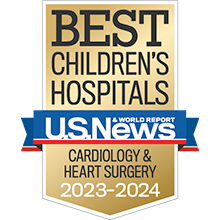 The Cardiac Center cares for babies prior to birth, infants, children, and young adults with congenital and acquired heart conditions. Whatever the heart condition — whether complex or rare, present at birth or acquired — you'll find the answers you need and the advanced treatment options you and your child deserve at our Cardiac Center.
Comprehensive cardiac care
Our team is one of the largest and most accomplished in the world: We have more than 125 experts, including pediatric cardiologists, cardiothoracic surgeons, critical care intensivists, pediatric cardiac anesthesiologists, advanced practice nurses and physician assistants. These experts are pioneers in the treatment of congenital and acquired heart conditions, and international leaders in diagnosis, patient care, research and education.
As a patient at the Cardiac Center, you or your child will also have access to over 800 other staff members, all of whom are specially trained to care for pediatric patients with congenital heart disease. These include nurses, respiratory therapists, social workers, psychologists, child life specialists and many more.
The Cardiac Center offers:
The Evelyn and Daniel M. Tabas Cardiac Intensive Care Unit (CICU) for critical care, and the Cardiac Care Unit (CCU) for intermediate care. The CICU is one of the largest in the world dedicated to the treatment of children with congenital heart disease. This state-of-the-art CICU is designed and staffed to care for infants and children during the most intense period of their treatment. The Cardiac Prep and Recovery Unit (CPRU) provides specialized care for cardiac patients before and after their procedures.
A Cardiac Operative and Imaging Complex, one of the most advanced in the world, includes an XMR Suite (catheterization lab/MRI), Hybrid Suite (catheterization lab/operating room), an additional catheterization lab, and two additional cardiac operating rooms – all on the same floor as our inpatient units.
A range of specialized services, including early diagnosis, monitoring and care planning during pregnancy through the Fetal Heart Program. Your team may also work with you to create a delivery plan through the Garbose Family Special Delivery Unit, the world's first birth facility specifically designed for mothers carrying babies with known birth defects, such as congenital heart disease.
Support for patients and families, such as financial counseling, social work, lactation services, spiritual resources and child life therapy.
Seamless care into adulthood, through the Philadelphia Adult Congenital Heart Center, a program that combines the expertise of the Cardiac Center at CHOP and Penn Medicine.
History of the Cardiac Center
Founded in 1855 as the nation's first pediatric hospital, Children's Hospital of Philadelphia (CHOP) has a long and rich history of breakthroughs in cardiac care and cardiothoracic surgery. Learn more.
Annual Report
Download the Cardiac Center's Annual Report for January to December, 2022.
---
Next Steps
Outpatient Appointments
Second Opinions, Referrals and Information About Our Services