CHD Experts Share Latest Innovations at Cardiology 2014
Published on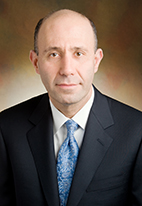 Jack Rychik, MD
Medical professionals from around the world gathered in Orlando, FL, to present research updates, discuss patient management and advances in the field of cardiology from before birth through adulthood
March 28, 2014 — An international group of more than 1,000 medical experts gathered at the nation's largest pediatric cardiology conference from Feb. 19-23, 2014, to discuss the latest innovations in detection and treatment of congenital heart disease in babies, children and young adults. Affecting one in 120 children, congenital heart disease (CHD) is the most common birth defect, which in the most severe forms is also the leading cause of death in infants and young children.
Cardiology 2014, the 17th Annual Update on Pediatric and Cardiovascular Disease, was held in Orlando. Sponsored by The Children's Hospital of Philadelphia (CHOP), the conference is the largest annual stand-alone annual pediatric cardiology meetings of its kind. Cardiology 2014 brought together leaders in pediatric heart care from hospitals across the U.S. and around the world. The conference was co-hosted by Arnold Palmer Children's Hospital in Orlando and Mercy Children's Hospital in Kansas City. The conference focus was on innovations in caring for children with congenital heart disease from before birth to adulthood with more than 300 presentations over five days.
Pediatric cardiologists, heart surgeons, anesthesiologists, nurses and perfusionists from nearly every state and six countries met, exchanged experiences and discussed new research medications, surgery, catheterization procedures, and ways to improve long-term outcomes and quality of life for children and young adults with heart disease. Special sessions covered advances in treating the fetus with heart disease, improving neurological outcomes after surgery for CHD, and creating cutting-edge programs for survivors of single ventricle heart defects and young adults living with congenital heart issues.
Most significant innovations and cutting-edge care for CHD showcased
"At Cardiology 2014, we showcased the most significant innovations and the most-cutting edge care for babies, children and young adults living with congenital heart disease," said Jack Rychik, MD, the conference course director and medical director of the Fetal Heart Program and the Single Ventricle Survivorship Clinic in the Cardiac Center at The Children's Hospital of Philadelphia. This year we received the largest amount of abstract submissions focused on the most novel ideas in caring for children with congenital heart disease, and we were pleased to accept 160 of the abstracts that highlight the most advanced research and clinical implementations in pediatric heart care."
The recipient of Cardiology 2014's Annual Outstanding Investigator Award was Jennifer Lynch, a graduate student in physics at The University of Pennsylvania that works on neurology research at CHOP. Her research was on time-to-surgery and pre-operative cerebral hemodynamics predict white matter injury in neonates with hypoplastic left heart syndrome (HLHS).
Conference award recipients
The recipient of the Annual Nurse-Scientist Award was Ashley B. Moellinger, RN, MSN, NNP, PNP, from the University of Alabama at Birmingham. Her research was on how postoperative feeding protocol improves outcomes after arterial switch operation for transposition of the great arteries.
Videos of the oral abstract presenters are on YouTube on the Children's Hospital of Philadelphia channel as well as the Cardiac Center at CHOP's Facebook page and @HeartCare4Kids on Twitter. The conference hashtag is #Cardiology14.
Original research was presented throughout the meeting from more than 30 cardiac programs in the US and abroad. All presented abstracts are published in the January 2014 edition of the World Journal for Pediatric and Congenital Heart Surgery.
Contact
Joey McCool Ryan, The Children's Hospital of Philadelphia, 267-258-6735 or mccool@email.chop.edu